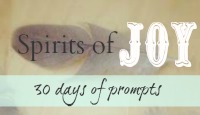 ***
What:: 30 Days of Joy Up Soulwork Prompts for Creating A Vision Book and transforming your life!
When:: September 1st, 2013
How:: An email each day for 30 days with a Vision Book prompt and some story telling from me (a few videos added this time)
Will open for registration August 15th.
During the April Joy Up we created Joy Books. We got out our markers and glue and cut up magazines and allowed our creative side to flow through as a way to dive into our Soulwork.
Soulwork is about connection to self, to the now and that future woman we see and want to flow into.
Allowing ourselves to make what became vision books, was powerful. Women were coming alive as they found a part of themselves that had been lost or longing to come out. These prompts become part of their books, their daily thoughts and their writing.
Take a prompt further by exploring it through story or art. Allow each day to guide you towards living joyously, even when things are hard or challenges arise.
Know yourself. Use these prompts to spend time with yourself. To light up in a new way.
Learn how to find your desires and then create pages filled with the words and visions and feelings that surround them. As you do this you harness the true magic of the Universe. You vibrate in a new way. These books become a way for you to align what you want with what you have. They create manifesting magic in your life.
Visioning allows you to love this life now while creating a future of your dreams.
Soulwork will prompt you into new places and ideas, it will ask you to push beyond that safe place and dip into seeing truth, beauty, connection, love, joy, dreams and ritual.
30 days of prompts.
30 days of soulwork.
30 days of creative exploration.
30 days of you.
30 days to creating a vision book.
30 days of connection to spirit.
30 days of the gift of joy.
"I am missing Hannah's daily emails, it had become part of my morning ritual. I would read them on my cell phone before getting out of bed every morning. Then lay here quietly reflecting on them before beginning anything else."
"I have had so many little insights into me & my joy. I appreciate you and the tribe more than I can say ~ Namaste ~ Love to all " ♥
"Hannah, this beautiful journey has grown through love. Your love, that you share with all of us."
"I have included reading my prompts and taking the time to process your beautiful words in my ritual. So inspiring and a lovely way with a cup of tea to start my day. Please don't let me miss the next Joy Up. Thank you for changing my mornings. xxx"
"It is my turn to thank you (and everyone) for the tasks and gracious love that is here in this tribe."
"Thank you, dear soul...this month has been life changing for me."
There is a closed Facebook group just for those of you working through these 30 days. You can share pictures, thoughts, aha moments and see the daily journey of soulwork from others who have gone or are going through the days. Totally optional but a beautiful way to connect.
I've been visioning since I was young. As a highly-senstive child (who never knew that term) I had a brutal time dealing with my feelings. I felt overun by sensations and sadness and joy and every possible feeling you could have. One of the ways I learned to 'see' those feelings was to cut and paste. To go into a magazine and let the words and images talk to me.
Now I find it is the way I center. It is how I allow myself to know my dreams. It is how I manifest from a feeling into reality. It is a safe space to receive messages and words from the Universe through these magazines and let myself feel without fear.
Each time I complete a new page I want to stare at it for hours, sometimes I make free pages and hang them on the wall.
Vision books help us write new stories, chapters and pages for our lives. We don't have to stay stuck or in fear. We can step into our light. Maybe it seems crazy that a little book full of magazine cut outs can help us heal and create beauty in our lives. A little crazy never hurt! Let's play...
Spirits of Joy - 30 Days of Prompts
Questions you might have::
Is this a journaling course? Nope, I've never been good at kepping a journal so I wouldn't be the one to guide you to that. But I do love prompts, writing exploration, vision board work and art books. I love cutting and pasting and exploring. This is about creativity and using our right brain to deepen our joy.
What if I'm not creative? What if? Hm, I think you might surprise yourself.
I've never been able to fully participate in long e-courses. What if I can't keep up? I don't keep up with the pace of others either. I do things at my own pace. You'll have all the emails that come to save and use for any time you'd like. Take your time, read the first 5, join in at the end. Whatever works for you. It is your 30 days.
Can I participate without keeping a book? Sure thing. Sometimes just being present to the thoughts and prompts is all you need. This is about you. Not me or them. What feels good to you? You can also create a vision board, a big huge poster of your thoughts and cut outs, a piece of art to hang on the wall. The beauty of creation is all yours.
What will I need? A blank book, I like this one and they come in many different sizes, scissors, a glue stick and lots of magazines and old cards, quotes, etc. A little time and space that you can carve out for you. If you have kids have them be part of this, get them each a book so that if you are short on alone, time you can still do some visioning each day.
Spirits of Joy - 30 Days of Prompts